Simply Stellar GGF
WGC Generator's Aurora - Priceless Champagne, by Glen Hope Gold Rush
"Stella" is a 2006 model, 15hh, drop dead gorgeous gold cream champagne tobiano mare. We bought her two 3/4 brothers,
Aurora's Rare Vintage
and
Aurora's Brut Champagne
, and were so impressed by those boys' temperaments, conformation, and fantastic gaits that we bought Stella to be able to have those things in our breeding program.
If anything, Stella is even nicer than her brothers. She is drop dead gorgeous, and one of only 3 mares sired by Generator's Aurora, the multi-WGC model horse. She has a beautiful long neck that comes straight up from her shoulders, which are nicely laid back. Her legs are long and clean. She is just beautifully put together and a picture to look at.
Stella's disposition is just as good as her conformation. She is very laid-back, and extremely intelligent. She has proven to be a reliable, smooth-gaited and FUN mount under saddle. Stella foaled a gorgeous gold cream homozygous champagne (ee aa nCr ChCh) filly by our late cremello champagne stallion,
Regulator
, on March 29, 2012, followed by an extremely sharp smoky black/white homozygus tobiano stud colt by 
General Hector
on April 28, 2013. She is proving herself to be a producer of beautiful, intelligent, and naturally gaited foals.
Stella is currently open, and is being offered for sale since we are reducing the size of our herd. She is ready to ride or breed to the stallion of your choice this spring!
SOLD
September 8, 2013:
January 2011:
At her old home, Golden Gaits Farm:
as a foal:
Stella's sire, WGC Generator's Aurora:
Her grandsire, Glen Hope Gold Rush: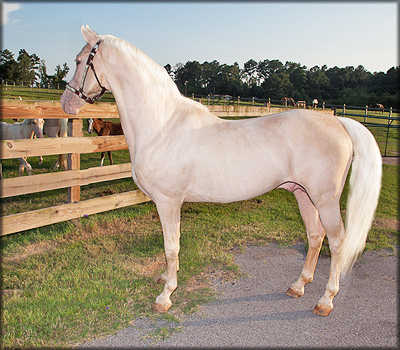 Video of Stella taken 7/5/11: